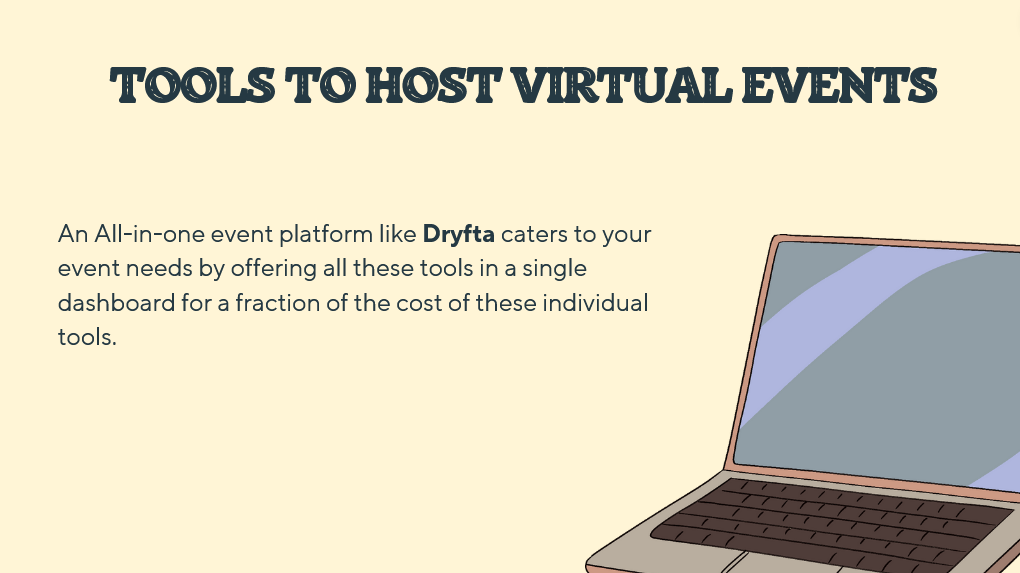 Various enterprises believe that going virtual is where success lies. Virtual events are the preferred model for businesses with lesser travel costs that would usually incur for in-person sessions and a higher return.

What are Virtual Events?
As the name indicates, virtual events are conducted by businesses when they prefer to opt for virtual meetings instead of one-on-one sessions with their teams. These events offer a higher level of convenience, flexibility, and cost-effective solutions. The implementation of virtual events is made even with the available virtual event tools and technologies. Down below are some essential tools for comprehensive Virtual Event Planning.

Event Registration and Ticketing
An all-in-one event platform, event registration, and ticketing are virtual event tools that can perform registration and ticketing over the cloud. It helps the users organize their events and various features that induce payment modules and seating layout accessibility.

Basic information required by organizers, including the attendee's job title, company details, and credentials, can be incorporated into these cloud-based tools.

Paper Submission and Review System
Another efficient all-in-one event platform tool that tops the list of virtual event tools in terms of efficiency is the paper submission and review system tools. These are used to manage abstract submissions and review various academic papers and abstracts. Other than that, the tool also deals with scheduling, administration, import/export facilities and facilitates communication between participants and authors.

The further system assists in staying on top of submissions and makes reviewing process easier. The system is also reasonable for notifying the authors regarding the status of their submission, which automates tasks and takes the job off of your shoulder.

Event Scheduling
Event scheduling tools such as Dryfta can make academic and professional events smooth. With virtual event tools like Dryfta, various activities can be carried out, including personal schedule checks, sorting sessions by speakers, check-ins, live streaming, keeping an eye on the attendee capacity, etc.

These tools work as an all-in-one event platform catering to broadcasting dilemmas and help ensure that all attendees are resent and keep an eye on the ensuring availability of the resources.

Virtual Meeting Platforms
Around 89% of respondents of a survey believe that video conferencing reduces time in completing tasks. As a result, various virtual meeting platforms such as Zoom, WebEx, Jitsi, and Dryfta are used for conducting virtual events. With such an all-in-one event platform, higher control makes hosting easier.

An efficient virtual meeting platform should be easy to use; it should come with various engagement options and offer analytics. This includes data outlining the engagement status of the attendees, etc.

Live Polling
Those hosting events use live polling tools for attendee engagement levels to be at their highest. These provide a way to visualize employee feedback while engaging them in real-time activities. These polling virtual event tools assist in facilitating conversations in both an anonymous and non-anonymous manner and offer a real-time glimpse into the beliefs and opinions of the audience.

Attendee Interaction tools
Tools for private messaging and video calls are the attendee interaction tools. These do wonders in boosting attendee engagement levels and make room for healthy discissions in online sessions. Users can participate in various ways, such as verbally speaking out or uploading media, even through polls. Other interaction tools include live chat, virtual whiteboards, Q & A sessions, quizzes, etc., to keep the audience on their feet.

Virtual Sponsor Lounge
Virtual sponsor lounges are software where participants will be using online space to network, explore and learn humanely without the hurdles of tech/ Usually, such lounges are accessible 24 hours of the day and are used to conduct formal and informal conversations.

These forums do wonders for ensuring that you are well-financed for the event with the help of sponsorship opportunities. Networking, mingling, and exchanging ideas between sponsors are carried out in virtual lounges. Furthermore, sponsors also get the chance to broadcast their services through downloadable media that the attendees can access.

Email Broadcast System
Email broadcast systems are essential in the list of virtual event tools. These are important for sending and receiving emails in an organized manner and assist in gauging information such as the clickthrough or open rates. Enterprises can offer newsletters through these systems and reach their audience with personalized and relevant messages. Essential messages about the event or a drip-feed email marketing approach can be taken through broadcast systems

Participation Certificate Builder
Participation certificates are a great way to boost morale and appreciate the participants for showing up and contributing. With participation certificate builders, businesses do not need to be called in extra resources or outsource the job. Instead, creating certificates becomes a 2-minute chore with the hundreds of professionally designed templates available.

Post Event Evaluation Survey
Gauging the efficiency of any online event can only be made possible with the help of a post-event evaluation survey. Virtual event tools allow you to gather attendee insight regarding the event and use the data for future events. Some questions to incorporate in a post-event survey could be:

· What was the reason for attending the event?
· How did you come to know about the event?
· Did you learn anything from the event?
· Is this your first time at one of our events?

An All-in-One Event Platform for Virtual Events
Handing tons of these tools individually can be extremely time-consuming and require more human resources and a ton of money. An All-in-one event platform like Dryfta caters to your event needs by offering all these tools in a single dashboard. That is also for a fraction of the cost of these individual tools.
Advertisements