The 2022 Winter Olympics, commonly known as Beijing 2022 or ROC 2022 Winter Olympics, is an international winter multi-sport event taking place in Beijing, China. The games officially opened on 2 February.
Tickets
In situation of the Covid-19 pandemic, it has been decided that tickets should not be sold anymore but be part of an adapted programme that will invite groups of spectators to be present on site during the Games.
Beijing 2022 Live Streams
Direct link to official Beijing Olympics livestream: https://olympics.com/en/beijing-2022/watch-olympics-live
Schedule
Check out the Winter Olympics 2022 Wall Chart and Download free printable Olympic schedule from below image. This wall chart given as per UTC+8 as local time zone of Beijing China.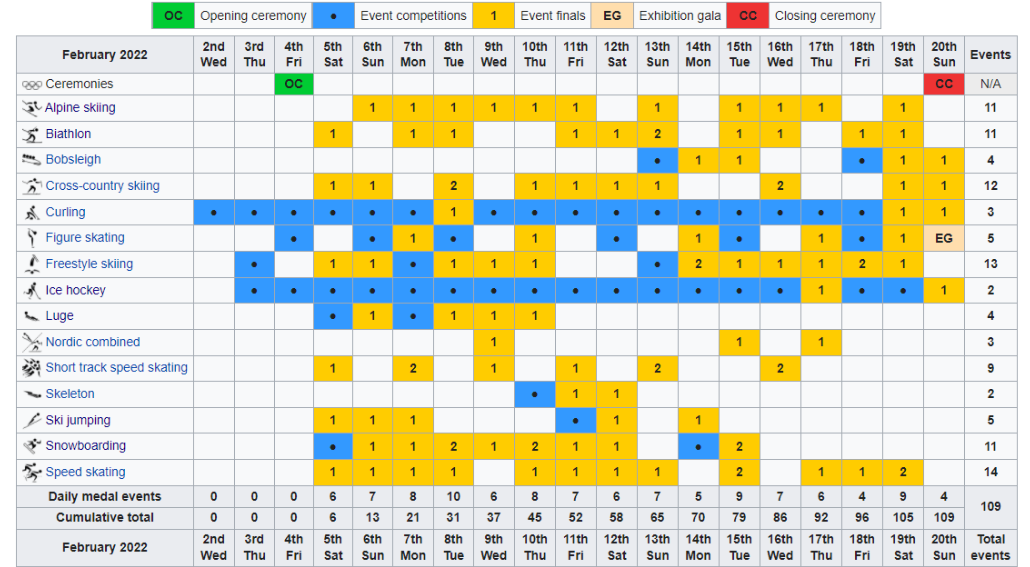 DATES & VENUE
02 Feb - 20 Feb 2022, 12:00 am
#_REVIEWS
OTHER INFORMATION

Event Schedule

Go to Event Website
Ticket pricing starts from:
Varies